Budget 2023: 157 New Nursing Colleges To Be Established
Dedicated multidisciplinary courses for medical devices will be supported in existing institutions to ensure availability of skilled manpower for futuristic medical technologies
Union Minister for Finance and Corporate Affairs, Nirmala Sitharaman presented Union Budget 2023-24 in Parliament, here today.
She announced establishment of 157 new nursing colleges in co-location with the existing 157 medical colleges, established since 2014.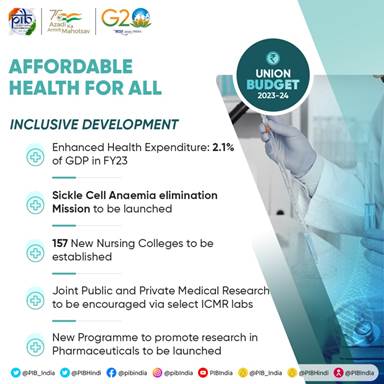 To promote research in medical sector and innovation, the Finance Minister said that facilities in select ICMR Labs will be made available for public and private medical college faculty and private sector R&D teams.
A new programme to promote research and innovation in pharmaceuticals will be taken up through centres of excellence, the Finance Minister announced. "We shall also encourage industry to invest in research and development in specific priority areas", she added.
Highlighting importance of futuristic medical technologies and high-end manufacturing in medical sector, Sitharaman stated that dedicated multidisciplinary courses for medical devices will be supported in existing institutions to ensure availability of skilled manpower for futuristic medical technologies, high-end manufacturing and research.
(PIB)
---
---